A Q&D Update and the Great Puerto Rico Blog! - November 6, 2007
So... it's been a while. (As one of my dearest friends, Kristen pointed out... June, to be exact...)
And lots has happened that you've missed.
Here's the quick and dirty update.
(What does that even mean??)
-July: I opened Lion King in June and had my family and Levi come. It was absolutely amazing! I love every moment of that show. The aerial work is where I really feel free. I'm trying my hardest to be there as much as I can right now.
I started working my other free days at Sea World in the Elmo show to cover for the full time girl who left go dance in Germany. (I was a dancing pirate, not a cute red monster) I finished out the summer working a solid 6 to 7 days a week every week. Exhausting, but fun.
-August: Spent half of the month in Chicago at the River North Intensive and the other half closing the Sea World show. Both were exhausting, but rewarding endevours. Chicago was beautiful, spending that much time with my sister was awesome, and dancing every day at River North was amazing, to say the least. Broke my body to bits, but was worth every strained muscle.
-September: At the end of August we had our Disney contract negotiations and I found out I had a job at Disney for another year, so that was awesome... and I also found out that in October I would be performing in the Villans Mix and Mingle, the Mickey's Not-So-Scary Halloween Party's show at the Magic Kingdom! Rehearsals were in September and the performances started soon after. (Disney believes in starting holidays SUPER early. It's only November 5th and I think Christmas shows start next week!)
My best friend Kristyne and I also went to Puerto Rico for a few days, but more on that later.
-October: Spend most of the month at Disney, performing day shows as a cute Dream Along with Mickey dancer, and performing night shows as a scary Villans dancer! Fun, but confusing...
Villans was SO much fun to perform though. The cast (made up of the Queen of Hearts, The Queen from Snow White, Cruella DeVil, Frolo from Hunchback, Jafar, Captain Hook, and Malificent) were just amazing performers and great people, and my fellow Villans Dancers were so, so, SO much fun every night! It was a great experience.
And I would have had a great time closing the show, but I was struck with a severe bacterial infection on Halloween day! It was so bad, I was out of work for four days! I had a 102 temperature and was just feeling the worst I've felt in years. Literally.
-Now: All healed from my week of sickness, I'm feeling productive again and getting things done, like posting this blog from Kristyne and my vacation to Puerto Rico! I'll warn you, it's long. But it's super interesting, and (dare I say it) even funny at times.
So, without further adeu, I give you....
Puerto Rico 2007!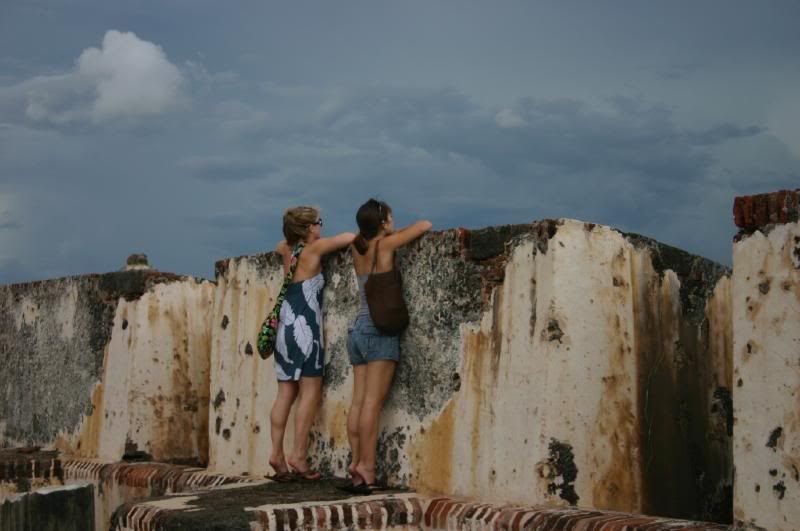 Sunday, September 16, 2007
We departed the sunny shores of Orlando for the sunnier shores of Puerto Rico early in the morning. Too early for a real breakfast, (unless you count Krispy Kreme… hey! We were on vacation!), too early for real traffic (no security line, yes!) and too early for the grumpy stewardesses (or should I say stewards?) that harassed us the entire flight. (Although is there any good time of day for a snotty stewardess? Or steward? Whatever)
At any rate, we were having a nice beginning to our vacation until it was rudely interrupted by two male stewards, who were pushy about everything. The final straw was when we were landing, Kristyne was holding a napkin to throw away. Walking by for a final inspection, full of more self-glorified power than a parking meter maid, snipped at her "Don't even think about putting that trash in the pocket in front of you, ok?" Apparently, the ESP installed on stewardesses (stewards, whatever) is severely lacking; she was holding on to the napkin to throw it away later. So there.
But nothing, not even snotty stewardesses (or whatever they call themselves) could stop us from having an awesome vacation.
We landed in San Juan and were promptly picked up by our amazing and gracious host, Manny, and his brother Hector. Manny worked with me at Sea World and Disney, and conveniently for Kristyne and I, grew up in Puerto Rico. His parents would be our cordial hosts for the week, allowing us to bunk up (literally) on Manny and Hector's bunk beds of youth.
The first thing we did after landing was go straight to Old San Juan, probably the most famous part of Puerto Rico. It's the oldest civilized part of the island, so I understand, and it was absolutely gorgeous! It was almost like old European streets, cobble-stoned and tightly spaced, yet splashed with vibrant hues of cyan and pink, like Miami on a sunny South Beach day. It was so full of character; some balconies spilled over red blooms and yellow flowers, and chatter floated out of small touristy stores crammed with Puerto Rican flags, hats, shirts, bottle openers, and anything else that could fit the flag could be printed on.
br>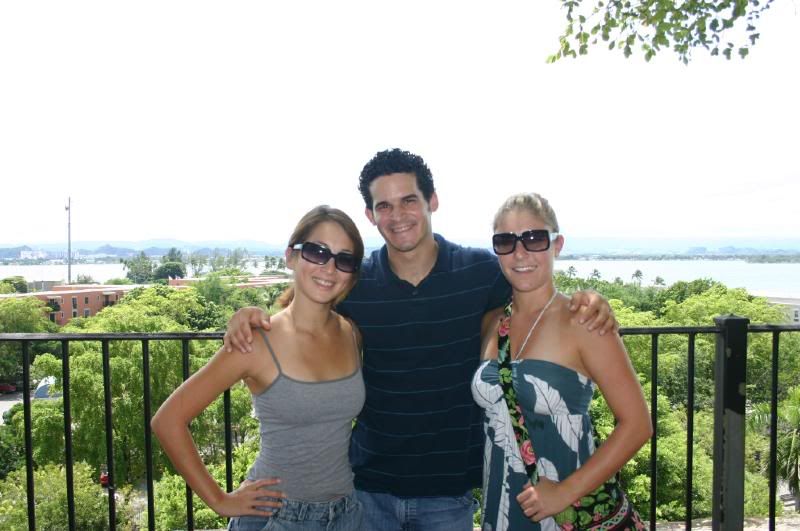 Downtown Old San Juan
We walked around, absorbing our first glimpses of Puerto Rico for a little, including a beautiful vista of the whole island before stopping in a cute local seafood restaurant for some lunch. We got to know Hector a little more, even though a small language barrier. (He didn't speak English, and we didn't speak Spanish, so Manny was our unofficial translator, as he was during the rest of the trip!) Hector had a new two-week-old baby boy at home, whom we met later in the trip, and who I'll always remember as the smallest little baby I've ever seen.
After our delicious lunch, where I tried (and fell in love with) plantains for the first time, we toured around Old San Juan a little longer, making a pass by Manny's old art school, and ending up at the large imposing fortress at the end of the island. In fact the fort had been surrounding us during our entire visit to Old San Juan, we just didn't see it! The walls made up the perimeter of the old city, and blended in with the cobblestones and character perfectly.
Old San Juan Fort
The fort was incredibly interesting, and was actually undefeated until the Americans came to claim the island in 18-something or other. (Please see Wikipedia for all factual data…) One of the actual original cannon balls from the Spanish/American encounter was still lodged in the wall in the basement of the fort! After feeling sufficiently educated, we made our way back to Hector's car (which he generously donated to us all week!) and were walking across the lawn of the fort when Kristyne noticed a few swarms of what appeared to be gnats. This wasn't anything strange, until she walked through one. Then it was funny, and gross. Until we realized that it wasn't just a little isolated swarm of gnats. No. This had to be the largest congregation of the small flying insects this side of the Amazon. Perhaps it was a regional breeding ground for them. Maybe there was a gnat conference going on that weekend. Or maybe we have the funniest –slash- worst luck in the world to find all of these gnats buzzing around our faces all the way across the 5 acre lawn. It's really hard to say. At any rate, we ran, screaming, to our car, and locked ourselves in.
We drove to Manny's parents house in the small town of Corozal and met his mom and step dad. We settled in and planned out the rest of the week online, thanks to Google Puerto Rico! (So amusing to me for some odd reason) We decided we were going to hit all the important spots around the island in a whirlwind 4 day tour.
While we settled in, his mom made the most incredible dinner of marinated salmon, rice, and salad. We ate in their beautiful outside patio/dining room where they entertained people, complete with outside bar, grille and TV! It was a super unique dining room, to say the least.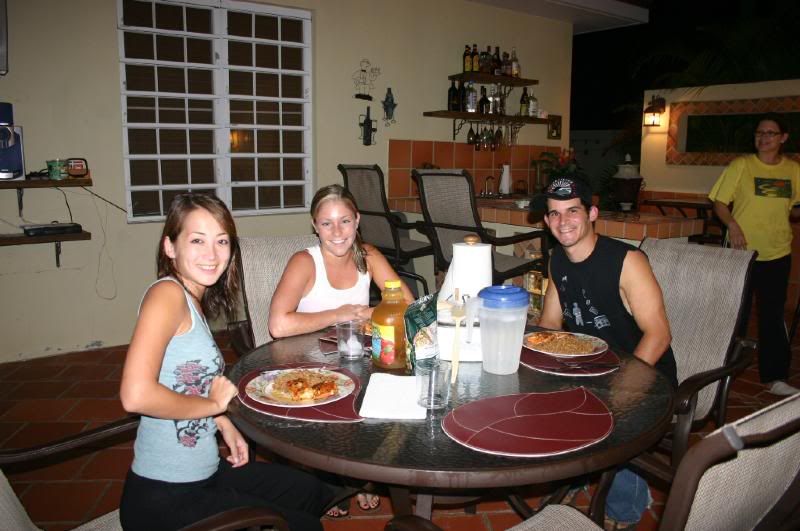 A Yummy, Homemade Puerto Rican Dinner
After dinner, we decided to venture out to see some authentic Puerto Rican nightlife. We drove back into San Juan and found the most popular place in town: Shannan's. An Irish bar. Oh yes. Very authentic. Apparently, this multi-level bar was the most popular place to go, so we parked, took a taxi van to the club itself, and…. Danced? No. Watched the Yankees/Red Sox game. Again. Authenticity through the roof. Apparently most of Puerto Rico are huge Yankees fans due to the amount of players from the island. Go figure. But it was a fun night anyway, despite the ironies. And the strange shuttle service to and from the club…
An "Authentic" Night Out
Monday, September 17, 2007
The next morning we woke up to a breakfast of Lucky Charms (blast from the past!) and a quick car ride to pick up another one of our friends who happened to be on the island at the same time, Tomas! I worked with Tomas at Sea World as well, and he was visiting his family at the same time we were there. He also lived right by our first stop on our itinerary, El Yunque, the rainforest of Puerto Rico!
El Yunque Rainforest Waterfall
We made our way up the mountain through windy roads that rival the twists of any San Francisco road any day. We found our first waterfall of the day right off the side of the road, and climbed down into it for a closer look at the icy water.
Then we went on a little hike down the mountain a little ways, with Tomas leading the way. He grew up going to these particular falls all his life, so he was quick and sure-footed down the slippery stone steps. So quick, in fact, we would lose track of him for a moment, and he would use the opportunity to jump out of a nearby bush and scare us all. (I kept thinking, "You know, this is how scary movies start… unsuspecting young adults venturing into the woods, jumping out to scare each other like it's a game… until the monster turns their fun game into a frightening one… coming to theaters this summer…")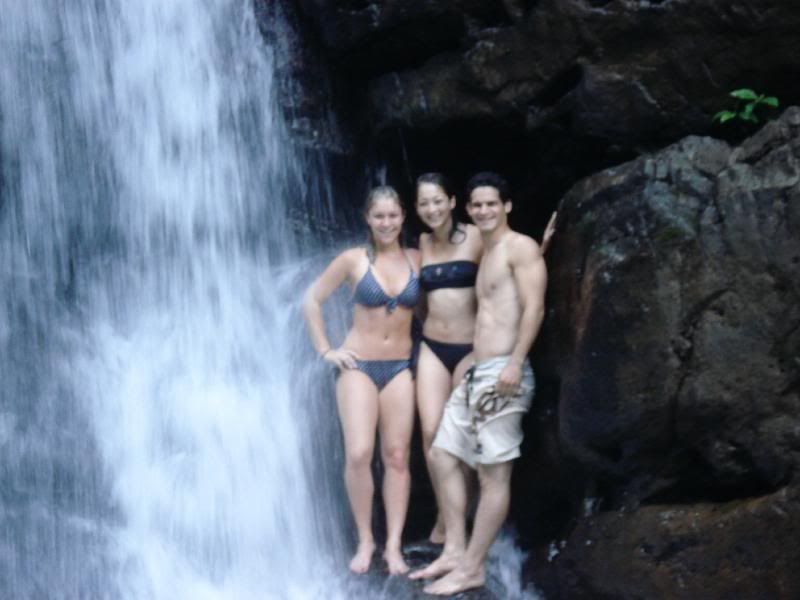 The long (and somewhat edgy) hike to the waterfall was worth it though; the waterfall itself was beautiful! It also had formed a great pool at the bottom for swimming, which we quickly took advantage of. We even climbed up into the waterfall al little ways, bribing a fellow tourist to take our picture in exchange for helping his wife into our spot for her picture.
We stayed and played and relaxed at the waterfall, and we left all too soon. By the time we climbed the ump-teen stairs that we had practically slipped down just that morning, we decided that we were professional stair climbers, since we were amazing at it there, and we also had a billion stairs to climb at Disney too. At the top, we were exhausted, but not as exhausted as another guy we found sleeping in a car close to ours.
Next on our itinerary was a beach day, so we found the closest beach, but found it closed due to some kind of pollution concerns. This didn't stop many locals from swimming anyway, but we decided to steer clear of the water. Behind the beach was a small restaurant featuring lots of traditional Puerto Rican food. Apparently, according to Manny, traditional Puerto Rican foods are greasy, fried, and then fried again. This little stand featured all kinds of this 'traditional' food, including my new-found love, shrimp tacos. Basically, it's fried dough wrapped around spiced shrimp, and it was absolutely delicious. (So good, in fact, we had to go back the next time we passed the stand to get some more!)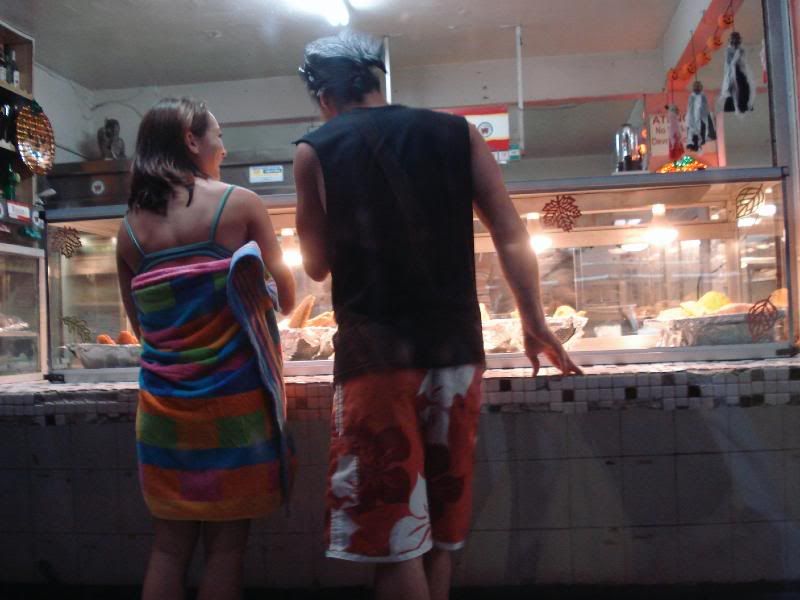 The beach that the little restaurant was found was interesting in so many ways. There was a few Tarzan slot machines plonked right in the middle of the seating area, playing obnoxious (yet apparently enticing) music to every passer-by. A few yards away from the seating area was another little building, with sounds of cheering from a TV and shouting from the real people inside. We eventually figured out that it was a small racing hut, for lack of a better word, and locals (mostly old men) were watching the latest horse race. (And apparently it was a close one!)
Also a few yards away was a small white tent with a pick up truck backed up underneath it, with buckets and coolers popping out of the tailgate. We walked up, curious, and found fresh oysters and clams for sale. On the table in front of the truck was salt, lemons, and every kind of hot sauce they could find in the local market, apparently. Curious, and hungry for more "traditional," yet not fried, local food, I plopped down and ordered a few of each item on the limited menu. After a few oysters reaffirmed my memories of strange textures and not so appealing tastes, I tried the clams… and fell in love. I didn't really know raw clams were eatable, much less delectable, so I ordered some more and doused them with a little of everything on the table. It was delicious!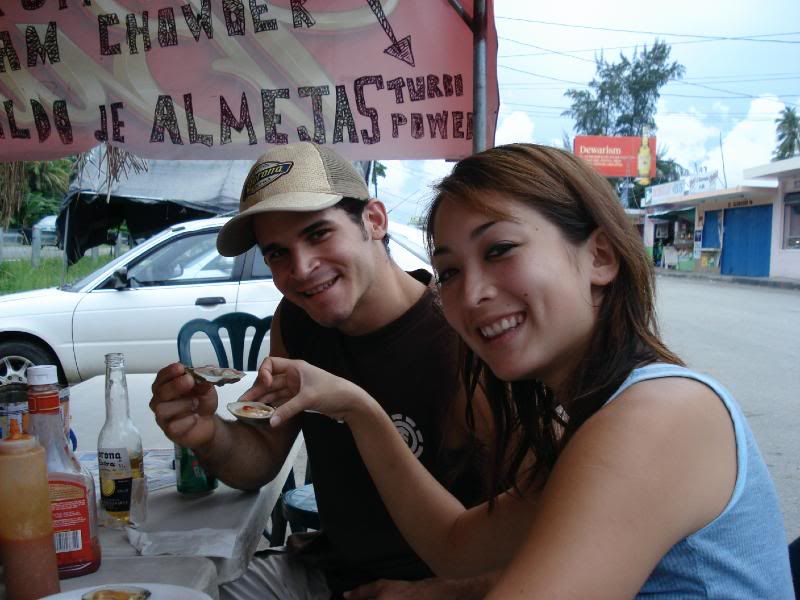 Clams, Clams, Clams! (Yum!)
We went back home, exhausted, and Kristyne and I found out that we have something in common with not only one another, but every 1 to 5 year old in the world- car rides instantly induce sleepiness. After a nice car ride/nap, we ate a second helping of the incredible salmon dinner and watched movies (King Kong, I believe it was) on the outside patio all night.
Tuesday, September 18, 2007
The next morning was our earliest morning of the entire trip, and would end up being the longest as well. We were planning on going to a beach called Culebra, a beautiful beach that was located on another small island near the main island of Puerto Rico. To catch the earliest ferry, we had to leave somewhere in the neighborhood of 6 am, and drive for about 2 to 3 hours to the ferry. We had planned on picking Tomas up to join us, but when we got to his house, he wasn't ready to go, and if we had waited we would have missed the ferry, so we had to run. We felt awful, and Tomas wasn't to happy with us, but he understood.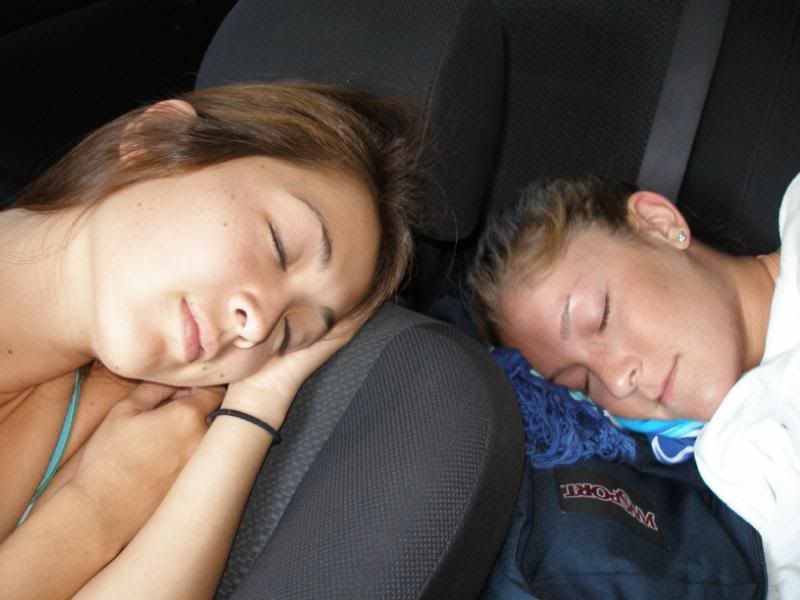 We made it to the ferry in time to learn that the ferry port's internet site did NOT update their ferry times, and that we missed the ferry to Culebra for the day. But, all was not lost, because another beach-filled island had a ferry leaving a few minutes after we arrived. (Or so we were told) So we decided to redirect to that island, even though it meant that I missed my one diving opportunity. (It turned out ok, I saved $100, and we still got to snorkel!)
We waited, and waited, and waited for this other ferry, which promptly filled up before we could get on, so we had to wait for the second ferry. It was now somewhere around 10 am, and we had been traveling for 4 hours or so… but we were still optimistic that we would be at a beach by 12.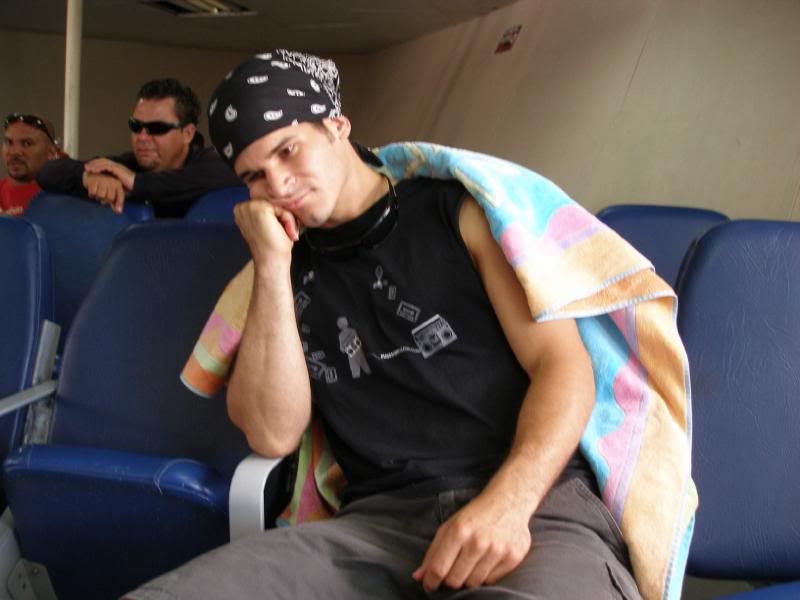 We finally boarded the second ferry and waited another half an hour for it to leave. Then, finding the underside smelly and confined, we spent the rest of the trip (1-2 hours) topside, enjoying the sun and sea breeze. Finally, when we arrived at the port on the island, we found no taxis lined up, waiting for us. It was 12 and we felt no closer to a beach than this morning.
While trying to wrangle a taxi ride, we met some fellow stranded tourists from Washington DC. After chatting, we found that we had pretty much the same itineraries for the rest of our trip. We shared a taxi to the beach with them, and ate in the same little beach café, albeit at separate tables. We would later see them at the Arecibo Observatory too! After a quick lunch, Manny and Kristyne rented snorkel gear and we hit the beach, snorkeling under a dilapidated dock, and found a plethora of sea life for me to point out (and then subsequently geek out about) to them.
A Green Moray Eel
We had a great time at the beach, but didn't get out without some injury… Manny's snorkel was a little tight, and ended up leaving a mark on his nose for the entire next day!
We shared another taxi back to the port with the DC tourists. At the port, we had a super healthy dinner from a vending and waited for our slow ferry home. I made the mistake of feeding one of the stray dogs at the pier. He accidentally fell in love with me he followed me around for a while. I decided that if he was my dog, I would have no choice but to name him "Shadow."
Finally our ferry pulled up, and instead of the people/car ferry that went 1 mile per hour that we rode on the way there, we found ourselves with what we thought was a gorgeous sunset cruise-liner (comparatively…) for the way back.
We stayed out on the back deck the entire ride and watched the sun put on a spectacular lightshow for us all the way back to the mainland.
Our Sunset Cruise
When we got back, we didn't have much time until our next scheduled activity, a night-time kayak through a lagoon in Fajardo called Grande Lagoon (or Laguna Grande) inhabited by bioluminescent dinoflagellates! But first, we stopped at a restaurant with lots of character in the town of Fajardo, where our tour would begin. The grille was outside, and there seemed to be little to no other kitchen to speak of. The only covered area was taken up by a pool table, and the other tables were stone patio tables with benches covered by patio umbrellas. The floor was wooden boardwalk or stone patio pavers. The server was a typical hippie-like young American girl, who you would pin to run away and live on a small Caribbean island just for the heck of it. The food was amazing, and we ate it at light speed to make our tour on time. We raced to the park to find large groups suiting up in life vests and awkwardly armed with long yellow paddles. I was disappointed about these large groups until I discovered that the one we chose only had one other family in it!
We were told that we could fit three to a kayak, but it turned out that we could only fit two, so Manny had to paddle alone, leaving Kristyne and I to try it together. I had never kayaked before, so I was a little apprehensive, and they put me in the front, letting the slightly more experienced Kristyne steer. Throughout the trip, though, we discovered that we were both amazingly natural at kayaking, and decided that we were definitely Olympic Team material! We made our way through a marina surrounded by yachts and sailboats and into a narrow natural mangrove canal with ease! At some parts it was so dark you could barely see three feet in front of you, and it was all you could do to focus on the blinking red light of the kayak in front of you to navigate.
Kristyne Truzzolino, Part I of the Olympic Kayak Team
As we approached the lagoon itself, we noticed some strange things in the water. It was so subtle, I thought my eyes were playing tricks on me, or that it was just a reflection from the moon, but the paddles of the kayak in front of me began to make little trails of color as they hit the water. Soon, we realized that we were rapidly approaching the lagoon, which contained these tiny, glowing animals. They feed on the blue-green algae abundant in the enclosed salt-water lagoons, and glow when they're disturbed for unknown reasons. Every time we touched the water, whether it was with our hands, paddles, or just the bow wake from the front of the kayak, a blue line of color would appear. When you dipped your had into the water and took it out again, it looked like a thousand little blue fire flies were crawling down your hand. It was simply surreal, almost like watching a real-life animation. (I tried several times to capture all of this on my waterproof camera, but all that came out, unfortunately, was pure blackness.) Once we reached the lagoon itself, the guide did something that he said isn't' really allowed or condoned: he let us jump into the pitch-black water ourselves to experience the glow all over our bodies!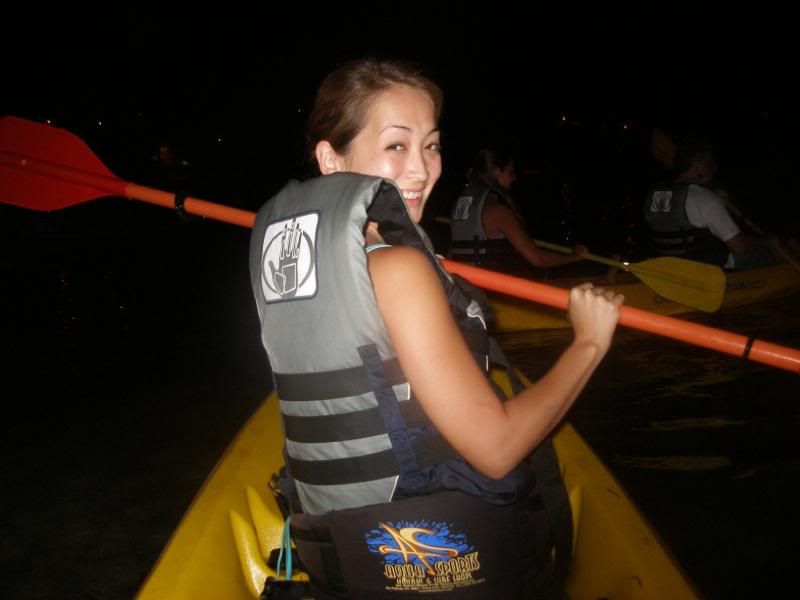 Selena Moshell, Part II of the Olympic Kayak Team
It was a little intimidating, I'll admit, to jump into water that dark after seeing darts of fish lighting up the water a few feet below us and hearing (and seeing!) the glowing splashes of fish jumping by the mangrove bank. But he pointed out that this was a once in a lifetime chance, so I had to take it. Slipping into the water quietly was a main point, as to not attract attention from the other tour groups around the lagoon. Once in the water, you felt like a real-life Tinkerbelle, with every motion of your arms and legs glowing in the water around you. At first, Kristyne was absolutely against getting in the dark water, but after I was in the water for a few minutes, she relented. We all agreed to make the water glow around where her entry point would be, so she wouldn't be so scared. And in her attempt at stealth, splashed and flopped into the water like a fish on land. It was hilarious. But at least she got it. (Albeit hyperventilating almost the whole time…) No, she was a trooper, and after a few moments of glowing, we all got back into our kayaks and reluctantly paddled back to reality.
The Kayak Group Leader (And Olympic Team)
After the tour, we collected our dry things and made our way back to the car, but not before the guide asked Manny which of us were his girlfriend! He laughed, saying neither, and that we were both happily attached back in the states. (This was hilarious to Kristyne and I! I guess we flattered the guide too much while enjoying his informative tour… whoops!)
Wednesday, September 19, 2007
On our last morning in our Puerto Rican paradise, we got to "sleep in" (if you can call 8:30 sleeping in… but after our 7 hour commute to the beach starting at 6 am, 8:30 was late!) and were treated to a "servi-carro" breakfast at Burger King. (Or Burguer King… that's Spanish for burger! And Servi-Carro is Spanish for drive through! Yeah, we were pretty much fluent by the end of the trip. We figured out that any word can be translated into Spanish by putting an "-o" at the end. Television-o. Car-o. House-o. See? Haha)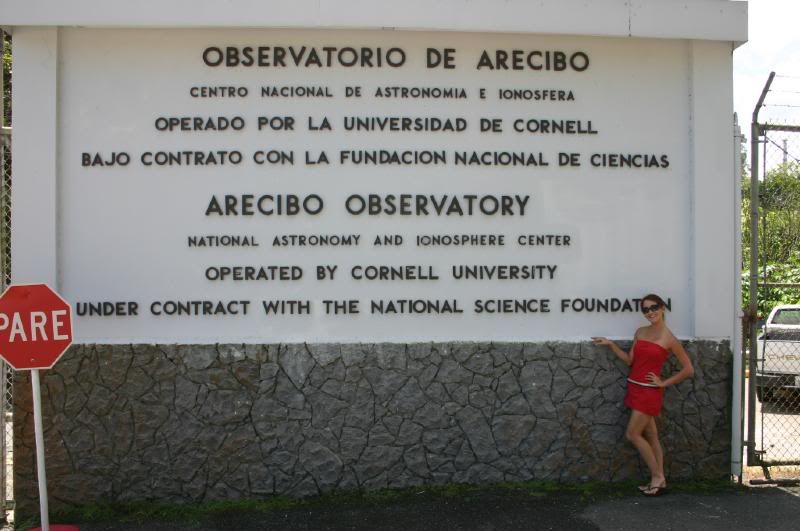 Arecibo Observatory, Magnet for Geeky Tourists like Myself…
We munched on our French Toast sticks as we drove to Arecibo Observatory, the worlds largest radio satellite (or something like that… we kept calling it all sorts of different things throughout the trip and after!) It was a special trip for us for a couple of different reasons. My dad was fascinated with radio satellites when he was a kid, so much so in fact, that he built one when he was younger! (Albeit a smaller one that Arecibo…) He originally wanted to go to school for astronomy and dreamed of studying the Universe and beyond for intelligent life using the very same technology they are still using at Arecibo today. (Which shows how dated that technology can be… but still valuable nonetheless...) It was also special for Kristyne for a completely different reason. Her boyfriend, Rob, is obsessed with the television show the X-Files. (Good man… if anyone knows me well…) This very satellite was featured in an episode (third or fourth season, I can't be sure) so it was a big deal for her to visit. I believe her exact words in quoting him were "You'd BETTER go!"
So "go" we did. Driving up the mountain to the natural Karst formation (read: sinkhole) that created the perfect dish shape for the satellite, we would catch occasional glimpses of the soaring towers that supported the massive dish, which would draw gasps of "Wow!" and "It's so big!" from all of us together. When we arrived, the sheer overwhelming scale of the satellite was, well, overwhelming! As we drove up, I stopped at the "Space ATM" for some Earthly currency, and we took the usual touristy pictures at the signs. One sign, though was particularly disconcerting for me and my fellow techno-phile Kristyne. Apparently, all electronic mobile communication devices (nerd-speak for cell phones and Sidekicks) were banned due to their interference with the research being conducted! So, for a brief and scary moment, we had to turn off our electronics. Also, there were the most random signs, one about a Pina Colada stand ahead (which was empty, to Kristyne's dismay) and others about not running, not to make loud noises, and reminders to drink 7up. (Apparently a big scientific sponsor…)
Earth Money from a Space ATM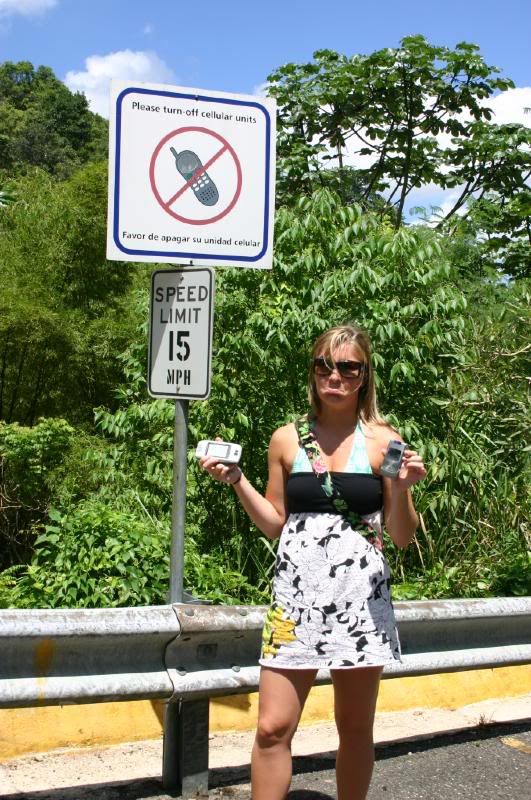 Kristyne gets Cut Off from Society
The Pina Colada Let Down
7Up's Space Sponsorship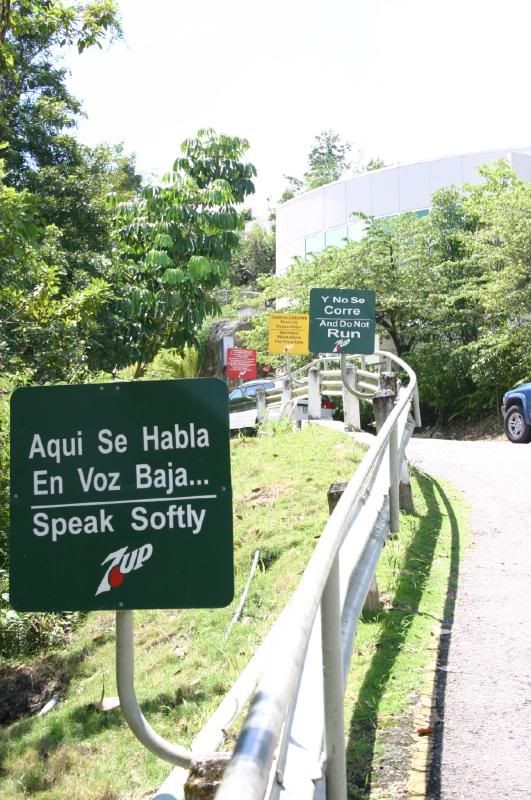 7Up Reminds us not to run or make loud noises...
In visitors center and movie we learned lots of very educational things, such as how the satellite worked, the scientific advances that have been achieved through the Arecibo research, and what movies have been filmed there. (Contact and 007, Goldeneye. No mention of the X-Files, disappointingly…) We learned lots of other interesting educational things, (Aren't your proud Dad?) and finally got to walk out to the viewing area to peer over the imposing bowl. It was huge. Huge doesn't even begin to describe the size. Pretty much one of the largest, if not the largest man-made structures I think I've ever seen. And that's only the bowl. The towers hum hundreds of feet over your head and are strung with support cables coming from everywhere, or so it seemed. It was imposing, and inspiring. And reminiscent of sci-fi movies everywhere.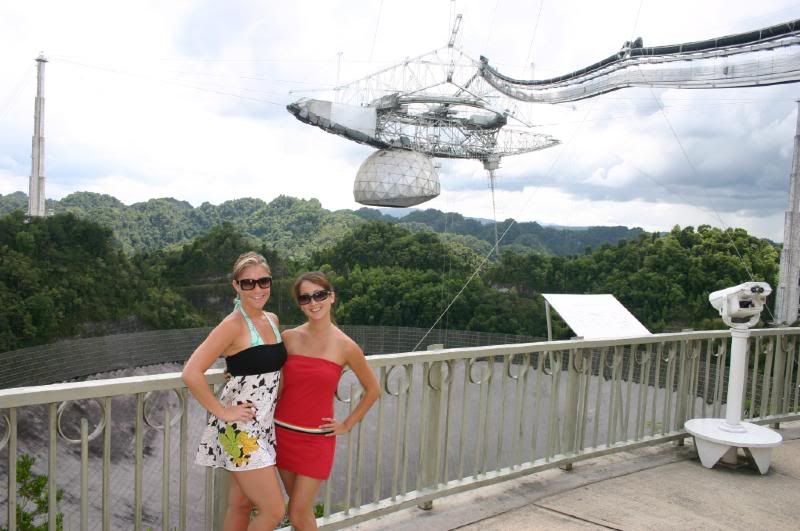 The Arecibo Radio Satellite
We reluctantly left arguably the nerdiest (and surprisingly fun) portion of our trip to more traditional tourist fare: natural cave formations. As we drove, we saw huge storm clouds accumulating all around us, but miraculously, it wasn't over us. Happy about this fact, I mocked the clouds and the lack of rain, happy that we would have a dry visit to the caves. But I spoke too soon. Not 15 minutes after I mocked the racing rain clouds, they were upon us, soaking everything with torrential rain. Including the caves. We arrived at the security gate to see the owner of the caves closing the gate up, who explained to Manny that the caves flood during the rain and therefore, they were closing up for the day. He braved the rain though, to give us a pamphlet, which I assumed, outlined the beautiful caves that we would be missing out on. Instead, it was a menu to the restaurant at the caves, which would still be open, rain or shine.
Disappointed, and cursing at myself for bringing the rain upon us with my taunting, we made our way home to pack for our flight later that night. We didn't leave Puerto Rico, however, without one last venture into their native foods. Manny took us to his favorite local restaurant, which featured in the foyer yet another, smaller, horse-race betting venue, equipped with a small TV blaring rapid-fire Spanish play-by-plays of the races and a small, glass enclosed bookie station. We went to the back of the restaurant to escape the noise and found a small, unlit room with a non-operational stone fountain and a smattering of dining room chairs. After a little bit of searching, Manny found a switch. (The server didn't even know where it was!) We got our menus, which Manny had to translate for us one last time, and listened to the rain outside while we waited for our food. I ordered a mufongo, which was the Puerto Rican equivalent to a Shepard's pie, with camarones (shrimp) instead of beef, of course. And once again, it was amazing! (People told me before I went to Puerto Rico that the food was amazing, and I took it in stride, but now, looking back, I can honestly say that everyone was right, and then some! I feel like I just ate and ate good food the whole time!)
Finally, after saying goodbye and many thanks to Manny's family, he took us to the San Juan airport for our flight home. We found the airport eerily empty, for some reason, and found this hilarious, coming from the bustling airports of America and being used to bumping into someone at every turn. Our flight home was uneventful, and thankfully, not populated by stuffy stewardesses that took pleasure in yelling at us, but we did have to keep a little baby in front of us entertained so that he wouldn't cry! He would look back in between the seats and smile at us, and we figured that as long as he was smiling, he wouldn't cry!
All in all, it was an amazing trip. The island of Puerto Rico is absolutely beautiful, contains tons of delicious food, and is home to some of the most welcoming people I've ever met. It was the perfect vacation, and we saw so many interesting (an educational!) sites! We got to relax on beaches, climb waterfalls, learn about astronomy (I know you're proud Dad!) and become fluent in Spanish-o! (That's Spanish, for Spanish!) It was exactly the vacation Kristyne and I needed, and was absolutely amazing in every way.